KINDNESS! ❤️
February 25, 2021
GOOD MORNING YR3!
How are we today?? Only a short time now until we will all be back together! 🥳🥳😃
Here are the answers to the riddles:
A dock-tors
A mushroom
A carrot      😂😂
I thought I would set you a nice challenge today. 
To carry out an act of KINDNESS!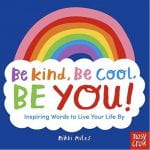 Today, do something nice for a family member or a friend. This might include a thoughtful gesture like making a card or phoning up a friend to see how they are. A friendly voice and a chat can always help.